Elizabeth A. Michas, Ph.D.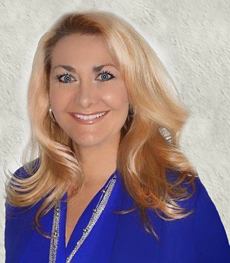 Following in the pioneering footsteps of her father, Dr. Elizabeth Michas became a licensed Psychologist in the state of Florida (PY4751) in 1992. Her clinical practice at Michas, Valentine & Gill Psychiatric Associates includes primary focus of brain-based psychotherapy and hypnotherapy. Often delivering a brief treatment model of 3-5 sessions using Cognitive-Behavioral Therapy, Acceptance and Commitment Therapy, Accelerated Resolution Therapy, Hypnotherapy and Rapid Resolution Therapy. Her specialty areas include treatment of trauma, PTSD, anxiety disorders, and eating disorders.
Most people think of psychotherapy as taking a long-time commitment requiring they talk, understand and feel a lot of pain to find themselves or recover their mental health and optimal wellbeing. Dr. Elizabeth's approach is different from other counselors as she uses cutting edge brain science to teach clients about the brain and give them skills to accelerate change and healing. By targeting the true source of emotional pain in the brain with key interventions, clients achieve results that are often rapid, and lasting. She explains the whole brain in a simple, practical, user friendly way. And shows you how to relate and influence things your brain does involving; thoughts, sensations, cravings, addictions, compulsions, habits, memories and emotions.
She has extensive experience in treating and resolving emotional pain, anxiety, panic, or grief. She uses her very own trademarked system called Emotional Pain Intervention (EPI®) to get to the root of what has been keeping your brain stuck and you from your best life. She trains others to use this cutting edge system that goes beyond talk-only therapy to rewire the brain and update memories, unconscious emotional learnings, compulsions and habits. She has special interest in mind-body, transformational healing with memory reconsolidation and its applications to post-romantic stress, heartbreak and all that stuff experienced after break-ups, betrayals and/or divorces. Dr. Elizabeth understands how common it is for the brain to get stuck and produce emotional pain and what can be done to help.
MindWorks Psychology, LLC
She is the founder and CEO of MindWorks Psychology, LLC offering brain-based coaching, consulting, and hypnotherapy trainings for licensed mental health providers from all over the country. Her brain-based hypnotherapy training courses meet the standards of the National Board for Certified Clinical Hypnotherapy (NBCCH) for professionals seeking certification by the board.
Background
Dr. Elizabeth Michas received her B.S. in Psychology (Magna Cum Laude) from Florida State University, where she was distinguished as Phi Beta Kappa honors graduate. She obtained her Masters and Ph.D. degrees in Clinical Psychology from Texas A & M University. Her dissertation research focused on adult attachment style. Her clinical training was completed with a 2-year internship and post-doctoral work at The New York Hospital Cornell Medical Center-Westchester Division, where she was introduced to and trained in the use of Dialectical Behavioral Therapy (DBT) in 1990.
From 1991-2006, she served as Clinical Program Director for Fort Walton Beach Medical Center's Psychiatric Treatment Center, a 48-bed inpatient unit of a general-medical surgical hospital. Throughout these years, she provided consulting services to hospital corporations, such as Humana, Columbia, and HCA. She is currently on Medical Staff with consulting privileges at Fort Walton Beach Medical Center to provide in-patient psychological and neuropsychological assessments, evaluations and psychotherapy.
From 2001-2008, Dr. Michas developed and hosted a weekly public education broadcast, "Matters of the Mind" on News-Talk Radio-WFTW 1260AM for the Mental Health Association of Okaloosa and Walton counties.